A history and overview of the different types of federal funding available to schools, including Title funds, IDEA, and ESSER funds.
Using Federal Funds to Increase Math Achievement
Riddled with acronyms and financial complexities, it can be overwhelming to understand the various types of national funding sources available to schools. Read on for a straightforward guide to understand the types of funds, eligibility, and allocation ideas to increase achievement at your school.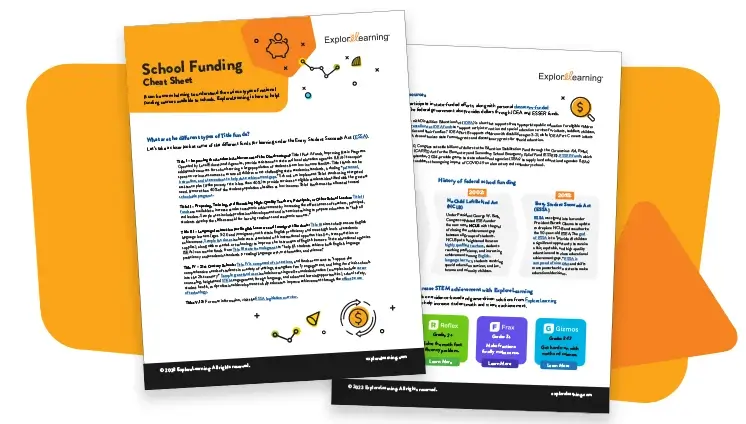 Download the School Funding Cheat Sheet

History of federal school funding
President Lyndon B. Johnson signed the Elementary and Secondary Education Act (ESEA) in 1965 with the goal of "full educational opportunity" for all children. ESEA provided school districts grants to support low-income students, purchase textbooks, award college scholarships, and fund special education centers. This aid was outlined in the first statutory section of ESEA, Title 1, Part A (commonly known as Title I).
Under President George W. Bush in 2002, Congress updated ESEA under the new name No Child Left Behind Act (NCLB) with the goal of closing the achievement gap between all groups of students. NCLB put a heightened focus on highly qualified teachers, students reaching proficiency, and increasing achievement among English-language learners, students receiving special education services, and low-income and minority children.
In 2015, the Every Student Succeeds Act (ESSA) was signed into law under President Barack Obama to update and replace NCLB and reauthorize the 50-year-old ESEA. The goal of ESSA is to provide an equal opportunity for students to receive a high-quality education. ESSA is composed of nine titles and shifts more power back to states to make educational decisions.

What are the different types of Title funds?
Now that makes more sense, doesn't it? Title funds align with various sections of the national legislation, in this case, ESSA. Let's take a closer look at some of the different funds for learning under ESSA.
For more information on Titles V-IX, visit the ESSA legislation overview.

Other school funding sources
Title funds aren't the only option to improve student achievement. Schools and teachers may participate in state-funded efforts, along with personal classroom-funded ventures and other grants (such as the Reflex Grant for math fact fluency and the Frax Grant for fractions mastery). The federal government also provides dollars through IDEA and ESSER funds.
IDEA: The Individuals with Disabilities Education Act (IDEA) is a law that supports free, appropriate public education for eligible children with disabilities. Congress allocates IDEA funds to "support early intervention and special education services for infants, toddlers, children, and youth with disabilities and their families." IDEA Part B supports children with disabilities ages 3-21, while IDEA Part C covers infants through age two. IDEA also authorizes state formula grants and discretionary grants for special education.

ESSER: In March 2020, Congress set aside billions of dollars to the Education Stabilization Fund through the Coronavirus Aid, Relief, and Economic Security (CARES) Act for the Elementary and Secondary School Emergency Relief Fund (ESSER). ESSER funds, which must be obligated by September 2024, provide grants to state educational agencies (SEAs) to supply local educational agencies (LEAs) emergency relief funds to address the ongoing impact of COVID-19 on elementary and secondary schools.

Increase elementary math achievement with Reflex and Frax
Utilize your funds on evidence-based and game-driven solutions from ExploreLearning to help increase student math achievement.
Reflex is the most effective system for mastering basic facts in addition, subtraction, multiplication, and division. Using adaptive games and frequent rewards, Reflex continuously monitors students' performance to help them achieve accomplishments at their own pace.

Reflex…
Supports grades 2+
Is research-based and packed with engaging challenges, personalization, and motivating student milestones.
Supports the three RTI tiers and all levels of students, including those on grade level, at-risk, and students with disabilities, such as autism and other cognitive disabilities, along with learning disabilities such as dyslexia and dyscalculia. Reflex factors out keyboard input speed from fluency calculations, so students with reduced skills in keyboarding or processing visual information can still take full advantage of the program.
Can be experienced in Spanish and French to help English language learners develop math proficiency alongside their peers.
Empowers teachers with professional development and insightful student reporting dashboards to monitor progress and celebrate growth.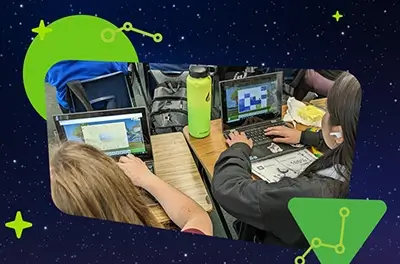 District math leader finds Reflex brings success to minority and economically disadvantaged students
Miami-Dade County elementary NAEP math scores rose after implementing Reflex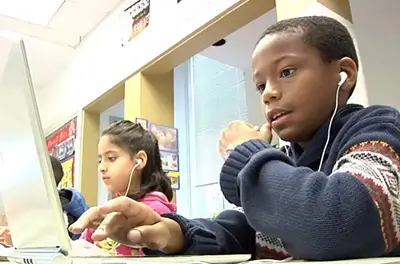 Title I students showed substantial growth on national math assessment using Reflex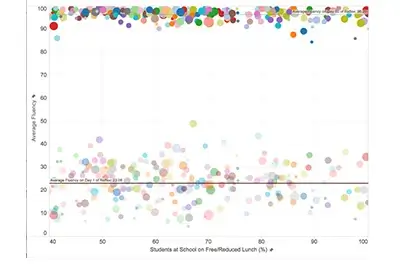 Math fact fluency improved for 20,000 students at Title I-eligible schools in just 60 days
Frax uses the latest instructional methods to create a better way to learn fractions. Students embark on a space-themed journey to build a strong conceptual understanding of fractions and close achievement gaps.
Frax…
Supports grades 3+
Is evidence-based and proven to increase achievement, particularly for the most at-risk students.
Keeps all students motivated with engaging games, fun characters, and motivating rewards for effort and progress.
Offers online and offline activities, teacher support materials, professional development, and reporting for easy and effective implementation.
Research, determined by an independent review to meet the ESSA Tier 2 rating for evidence-based interventions, found that students using Frax had significantly larger math growth compared to non-users.
A 6th-grade special education teacher experienced student success thanks to Frax and Reflex.
Frax and Reflex users who scored two or more grade levels below in the fall had 56% greater scale score gains and were nearly three times as likely to reach stretch growth goals in the spring.
---
Are you interested in using your federal funds on ExploreLearning products? Contact us to learn more and experience the products in action.
Give students 2-5 the foundation they need to succeed at math.
Take a Trial
Help students 3-5 build deep conceptual fractions understanding.
Take a Trial