Discover dysgraphia & dyscalculia definitions, plus effective teaching strategies to support students with math learning disabilities at ExploreLearni
Strategies to Support Students with Math Learning Disabilities
Some students who have struggles in math class might not feel confident in their skills. Others may experience math anxiety. Then, there's the group of students with specific learning disabilities that make math class difficult. Dyscalculia and dysgraphia bring challenges with learning math, but there are classroom accommodations that help students find success.

What is dyscalculia? Understanding the signs and symptoms
What is dyscalculia? It is a learning disorder that specifically affects the ability to understand math and information based on numbers. Dyscalculia is similar to dyslexia, another learning disorder that involves reading ability. With dyscalculia, it is the area of the brain associated with math and number-related skills that is affected. Three to seven percent of all children, adolescents, and adults have dyscalculia.
Students with dyscalculia experience difficulty in all areas of mathematics. Basic arithmetic operations and word problems are difficult to process and solve. Students may not understand that "7" is the same thing as the word "seven." Phone numbers or zip codes are tricky to remember. They find it hard to decide which number is greater or less than another number.
What are other dyscalculia symptoms that teachers might notice in students?
Difficulty with recall of basic math facts
Inability to tell time on an analog clock
Confusion with math symbols, such as +, -, and x
Struggles with money and/or counting money
Trouble with moving from right to left
Difficulty with recognizing sequences or patterns

Decoding dysgraphia: Characteristics and what you need to know
What is dysgraphia? The dysgraphia definition is a neurological disorder characterized by writing disabilities that can be diagnosed and treated. It often becomes a concern when writing is introduced to children. Letters aren't spaced or sized correctly. Words are misspelled or the wrong word entirely. For example, a student might write "dog" for "pet."
While children with dysgraphia could have other learning disabilities, many have no other academic or social problems. Other characteristics of dysgraphia include difficulty with writing, typing, and spelling. Complications with fine motor skills, organization, and spatial perception present problems for students with dysgraphia.
How rare is dysgraphia? One in five children struggle with it. Dysgraphia isn't just about words and writing. The learning disorder presents itself in math class because the ability to learn, apply, and communicate math skills is affected. Learners with dysgraphia in math class may experience frustrations with place value, fractions, and equations.

Effective dyscalculia strategies and evidence-based interventions
Teachers have a variety of dyscalculia accommodations to use in the classroom; some are spelled out specifically for a student with an IEP. What are a few interventions to try?
Start with manipulatives because seeing and touching objects help with connections to the concepts.
Talk about math using specific math vocabulary.
Let students draw pictures and make models to illustrate math problems.
Allow extra time for work completion and calculators when appropriate for the skill.
Use edtech resources to provide alternative ways for students to learn and practice concepts.
Provide graph paper to use for keeping numbers in line when solving problems.

Solutions and accommodations to help students with dysgraphia
Because dysgraphia involves the physical task of writing, evidence-based interventions for dysgraphia eliminate struggles with the writing process itself. Take a look at these writing accommodations for students with dysgraphia:
Use pencil grips.
Write on wide-ruled paper or graph paper to help with keeping numbers in line.
Try paper that has raised lines so students feel the spacing.
Get notes from the teacher when possible.
Use computers or tablets.
Write big, and don't expect perfection. Aim for legibility.
Build muscle strength and control in the hands by squeezing stress balls.

Don't let math learning disabilities stop your students from shining!
Dyscalculia and dysgraphia don't have to limit the potential of your math students. When strategies for math-related learning disabilities are combined with activities that are adaptive and individualized for the progress of each student, success and confidence are within reach.
ExploreLearning math solutions target students' critical learning needs in an impactful and motivating way. Teachers can scaffold instruction using comprehensive teacher support materials and real-time reporting. Our progress monitoring tools help teachers quickly discover when students are struggling and how to help. Students begin to see themselves as math people!

For math fact fluency, Reflex is a solution that works for all students. Whether students are at grade level, at risk, or have special learning needs, such as dyscalculia and dysgraphia, Reflex provides the tools to support everyone successfully.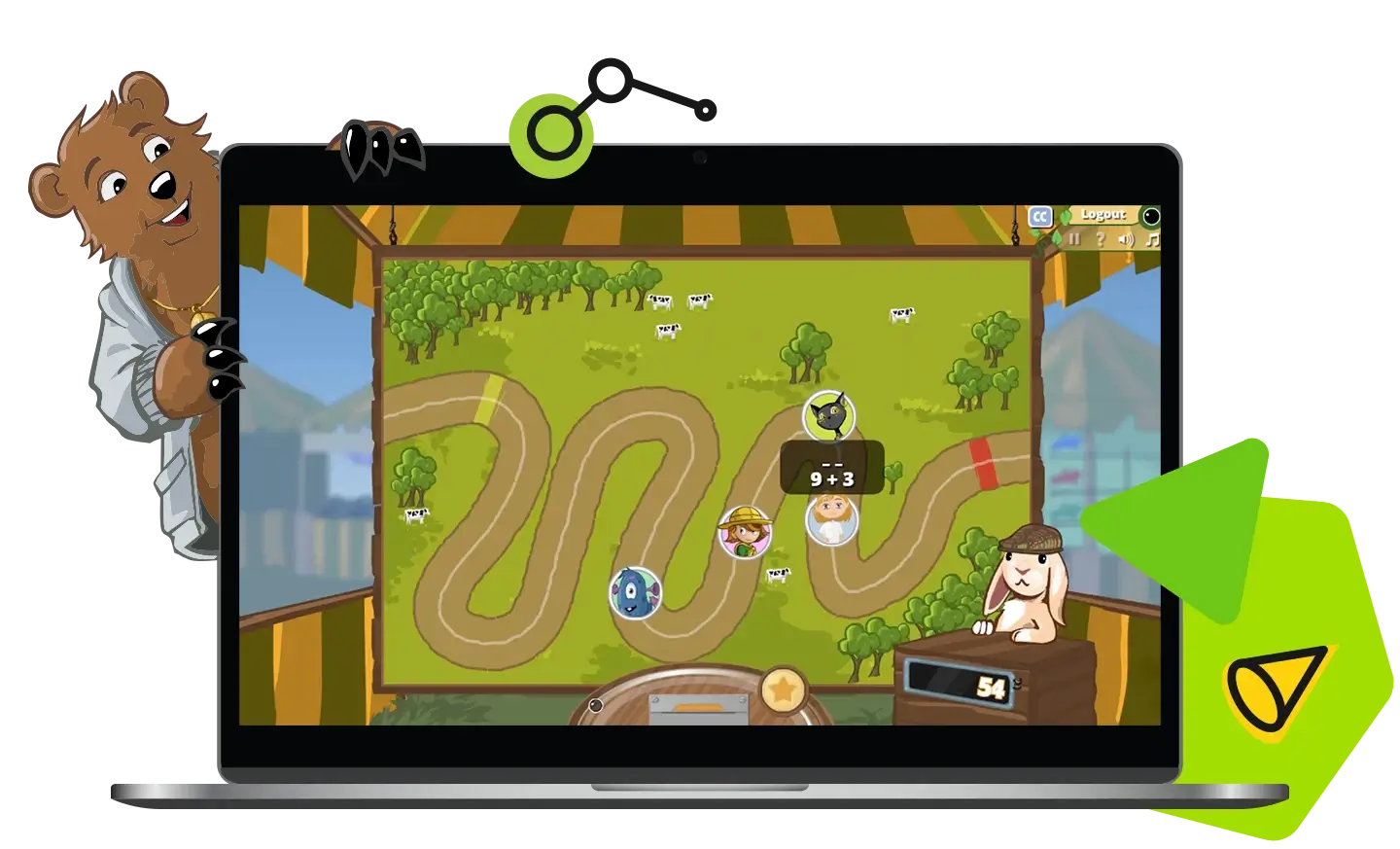 For students needing a boost with fractions, Frax uses the latest research-based instructional methods to create a better way to learn fractions. Students understand fractions as numbers and how they relate to other numbers, bringing more success than with more traditional instruction. New research found that students who were two or more grade levels below in the fall were 2x as likely to reach proficiency in the spring after using Frax.

ExploreLearning math solutions help students feel more confident learning math by assisting them in mastering essential skills with evidence-based results. And when students are confident, they're more likely to take on more challenging concepts!

Teachers want to find the best ways to reach their students. Discover the positive impacts of Reflex and Frax for those with dyscalculia and dysgraphia– and the rest of the class.