Elementary school teachers shared overwhelmingly favorable feedback on the benefits of using Reflex in their classrooms. For all the details, keep rea
At the end of the 2022 – 2023 school year, ExploreLearning surveyed elementary school teachers who used Reflex during the year. The online survey asked teachers to reflect on their experiences with Reflex. The survey, which included both rating scale questions and open-ended questions, was completed by 100 elementary school teachers.

Teachers shared favorable feedback about Reflex
Responses to the survey questions, which centered around overall product satisfaction, product usability, and student learning outcomes, were overwhelmingly favorable in all categories. On a scale of 1 (very negative) to 10 (very positive), teachers gave Reflex an average rating of 9.1.

Reflex is proven to help students of all levels succeed
Reflex is the most effective solution for any student who needs math fact fluency. Using fact families and delivering the right facts at the right time for each individual student, Reflex meets students where they are. It's used in thousands of classrooms to successfully support student growth and learning at grade level, at risk, and with special needs.
Reflex uses evidence-based methods and innovative technology to provide the most effective math fact fluency solution available for student growth. Studies show statistically significant, positive results for student learning outcomes of Reflex users. This recent survey further illustrates why teachers and students love the results of using Reflex.

---
For more details, read the research brief here.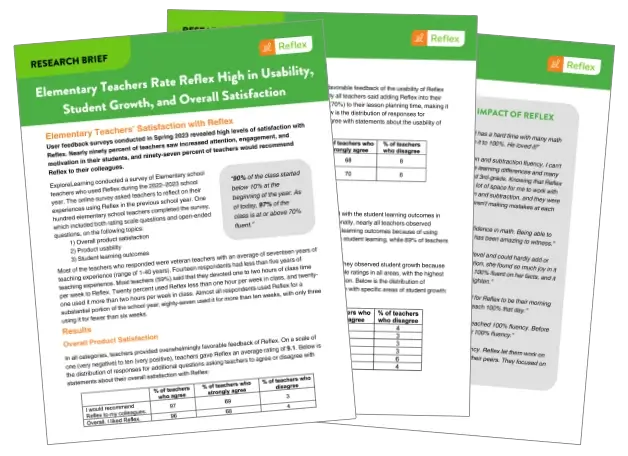 Isn't it time to try Reflex in your classroom?
Take a Trial